12 Energy
The use of energy for all activities in society is of great interest worldwide. Golf courses use a variety of energy sources, primarily electricity, gasoline, diesel, natural gas, propane, and heating oil. Renewable sources, such as solar, wind, and geothermal, are being considered and used by more small business as the return on investment increases. These newer technologies offer opportunities to reduce dependencies on fossil fuels and to decrease our carbon footprint.
To establish effective energy BMPs, the facility's existing energy consumption should be evaluated, and improvements should be achieved through energy reduction, conservation, and new technologies. Energy audits allow for identification of deficiencies. A written energy conservation plan is key to ensuring improvement, and includes an evaluation of current conservation practices in these categories:
Buildings, infrastructure, and facility amenities such as the clubhouse, restaurant, kitchen, swimming pool, parking lot, offices, maintenance building(s), tennis courts, and restrooms.
Golf course, surrounding landscapes, and related agronomic operations (playing surfaces, equipment, turfgrass maintenance, etc.).
Irrigation system and pump station.
The irrigation system and pump station are the largest consumers of energy on the golf course and should be evaluated. Conserving and reducing water through irrigation BMPs also reduces energy consumption.
Some policies, financial incentives, and loan opportunities exist at the state and local level for renewables and energy efficiency measures at commercial enterprises such as golf courses. Energy providers can provide information, expertise, and incentives to help achieve these goal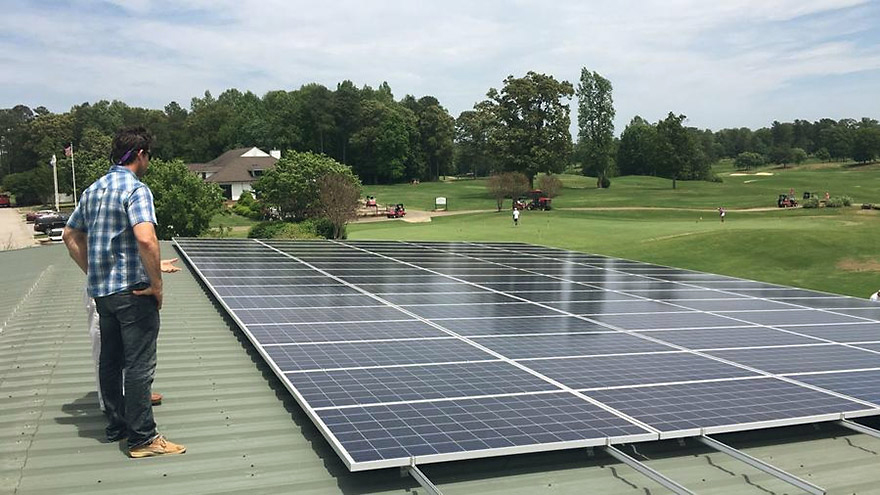 12.1 Energy Audits and Evaluation
An energy audit of the facility should be done if one has not been conducted previously. Energy audits identify areas most in need of conservation. Utility providers can be a source of expertise in conducting an audit. An energy audit should include these steps:
Evaluate insulation in heated buildings.
Evaluate heating, ventilation, and air conditioning (HVAC) system efficiency.
Determine annual energy usage.
Itemize usage according to various categories.
Determine if energy usage during non-peak hours are maximized.
Compare usage with similar small businesses.
Identify areas of improvement.
Determining energy conservation goals and establishing an environmental plan is a first step in addressing energy efficiency. An energy management plan sets a baseline related to current energy use and incorporates quality management elements (plan, do, check, and act) for continual improvements. Once goals for energy conservation are established and documented, this policy should be communicated to all staff.
Evaluating the performance of an energy conservation program requires tracking and measuring energy use at the facility based on energy assessment units (e.g. kilowatt hour or BTU). Monitoring energy usage can be accomplished with energy management software or programs such as EPA's Portfolio Manager, which also incorporates features such as reporting, savings calculations, and carbon footprint calculations. To benchmark performance, energy consumption can be compared with other local golf facilities of similar size or more generally to buildings of similar size.
12.2 Energy Efficiency Improvements
The audit will identify opportunities to increase energy efficiency in buildings, amenities, and operations. For example, ground-based heat pumps conserve energy as compared with conventional heating sources and could be considered for new building construction or replacement for existing heat sources when the opportunities arise. Developing and implementing a viable energy conservation plan will lead to improvements over time.
12.3 Green and Alternative Energy
Green and alternative energy can be incorporated into golf course operations. Golf courses can become small-scale generators of energy through wind, solar installations, and geothermal heating and pumping. Golf courses normally have the land, space, and natural resources available on the property to lend themselves to energy generation as newer technologies become more affordable. Financial and tax incentives may be available for installing these energy generators.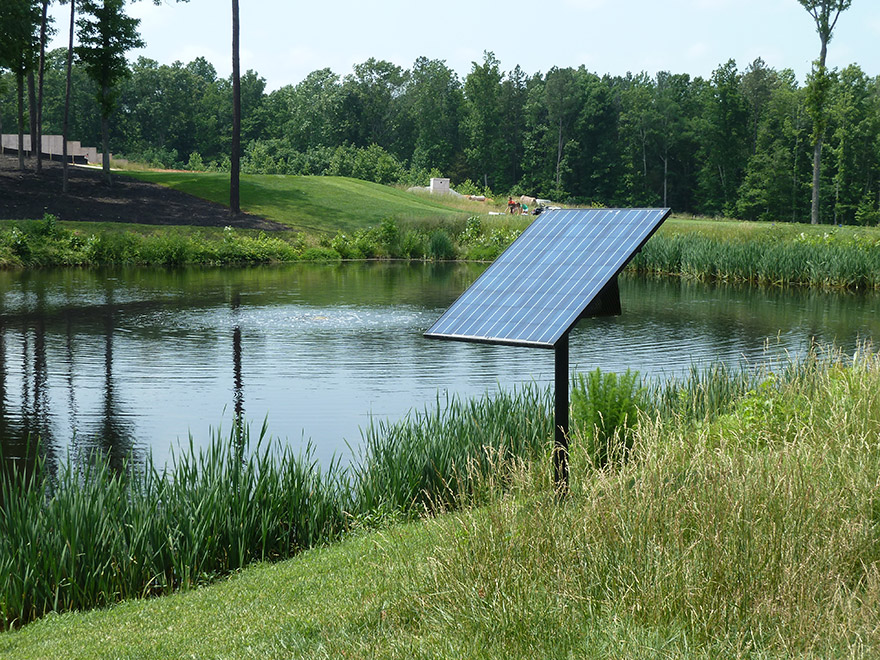 12.4 Energy Best Management Practices
Energy Audits and Evaluation
Conduct an energy audit, including lighting, insulation, and HVAC systems.
Monitor energy use by tracking statistics and "time of use" data.
Install precision meters, gauges, etc.
Develop an equipment inventory that documents individual equipment's energy use, traffic patterns, maintenance records, operation hours, etc.
Benchmark performance against similar-sized facilities.
Educate, train, and motivate employees on energy efficiency practices pertaining to golf course operations.
Energy Efficiency Improvements
Evaluate and monitor all energy sources, tracking both costs and any usage trends.
Add insulation where needed.
Use non-peak electrical hours for charging golf carts and maintenance equipment.
Prioritize pump station usage during non-peak hours.
Limit high-consumption activities when demand is high.
Install LED lighting and other high-efficiency alternatives.
Install motion sensors for lights where appropriate.
Install low-flow faucets.
Install programmable thermostats.
Consider energy management software.
Utilize the EPA's Energy Star and Portfolio Manager programs.
Utilize the EPA's WaterSense program.
Maintain good record-keeping practices.
Prioritize energy consumption as part of decision-making when making purchases concerning all aspects of facility management.
Evaluate effectiveness of upgrades according to efficiency and conservation goals for energy use.
Green and Alternative Energy
Consider pursuing the U.S. Green Building Council's LEED certification for new buildings and existing building retrofits.
Use alternative energy from natural sources, such as solar, geothermal, and wind energy generation when possible.
Assess the viability of small-scale wind and solar installations.
Install geothermal heating and cooling systems.